Updated 6 March 2015
Exceptional Zodiac 601XLb, with 110HP Corvair
SOLD!
Well-built, intelligently modified, well-maintained and well-proven, including 2 trips to Oshkosh!
Cover plane and lead article in October, 2012 issue of Contact! Magazine.
~670 TT, Fresh 3L Engine in Nov '13, ~140 SREMAN!, Day/Night Equipped, 11/14 Annual
Very inexpensive to operate - Can use mid-grade auto fuel, up to 10% alcohol.
109 KTAS (125 mph) 70% Cruise (9500', 3000 RPM, <5 GPH), >500 NM Range
(New plane on the way, so - Make me an offer!)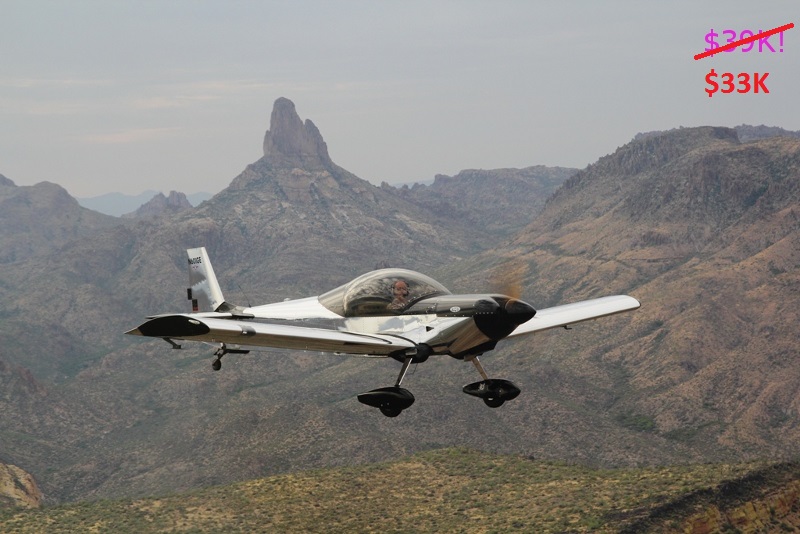 Over the Superstition Mountains, near Weaver's Needle. Aug 2012.
Basic Specs
Nov.2008 E-AB Zodiac 601XLb, SN 6-6753, constructed from QB kit by PhD aerospace engineer.
Custom airframe mods completed Aug 2010 and approved by insurer (Chartis, through Falcon).
Insurance ~$1400/year with $45K hull coverage.
~670 hours TT Airframe, Only ~140 since build Engine. Flown regularly.
Nearly new, smooth-running, direct-drive, air-cooled, flat-six, 183 cu.in (3.0L) Corvair motor,
built up by Mark Petniunas (Falcon Machine), with new OT-10 cam, new auto-fuel-tolerant
heads, cylinders & pistons, a Weseman 5th bearing, high-volume oil pump, large oil cooler,
new WW exhaust, D&G rebuilt MA3-SPA carb, etc.
See www.flycorvair.com, www.falconmachine.net and www.fly5thbearing.com for more information.
Sensenich 63x44 Wood Propeller with ~320 hrs. (Repitched by Gary Hertzler to match new engine.)
15 gal wing tanks. (Total capacity 30 gal useable.)
Aircraft empty weight 793 lbs. Gross weight 1320 for LSA. >347 lbs available with full fuel!
Hangered, Arizona airplane for entire life.
Dual sticks & dual brakes! (Right side stick is removable for more passenger space.)
Semi-submerged, gun-drilled Grove landing gear (saves 15# over factory and much easier to land)
Maule tailwheel (6" solid or 8" pneumatic type, your choice)
Turtledeck and many custom fairings improve looks and performance.
Fully polished airframe, using Nuvite system. You see what you get!
Glass panel, full night lighting, heated pitot - could be IFR certified.
Flightcrafters Grey Ultra-Leather interior. Very comfortable.
Highly detailed POH with systems descriptions, procedures, checklists and flight test data.
Complete logs and maintenance records, including oil analyses.
Click any picture for a larger image.
Avionics
MGL Ultra EFIS/EMS with AHRS and magnetometer. Regulated power supply.
MGL RDAC-X with 2xCHT, 6xEGT, fuel flow/totalizer and all regular sensors.
MGL V10 radio with built-in intercom, 3.5mm music-in socket. Bottom mount antenna.
MGL back-up 2½" airspeed/altimeter
Avmap EKP-IV large-screen, high-res GPS in AirGizmo panel mount.
Trio 1-axis autopilot with GPS tracking. Works great!
Narco AT 165 Transponder w/encoder.
Ameri-King AK-450 ELT. (Not 406 MHz, but AK-451 is drop-in replacement.)
Dual PC-680 batteries with 1/2/both/off selector (no master switch nor relay)
12V,1A panel power port.

More Details
Externally counterbalanced ailerons with aerodynamic spades.
Reduced elevator authority 25% and added viscous damper for greatly improved control harmony.
Electric aileron and elevator trim. Extended elevator trim tab.
"Coolie-hat" trim switch on pilot's stick, plus panel switches and indicators.
All steel-braided AN3 brake lines - no plastic tubes!
SAE 30R9 fuel injection hose throughout fuel system with AN fittings.
Custom aerodynamic brake covers, gear attachment covers and tail-spring cover.
Flap torque tube is split and clamped with a custom coupling. Flaps are independently adjustable.
Inboard flap up-stops.
Firewall treated inside cockpit with sound-deadening insulation.
LED beacon with HI/LO (day/night) operation. LED position lights.
Multi-flash wing-tip strobes, also with HI/LO operation.
Powerful HID landing light in right wing.
Bruce's canopy cover with N-number and custom prop socks for travel.
RV-10 style extra cockpit vents and custom canopy stays for hot weather ground ops.
Heavy duty 9-row oil cooler.
Koger retractable canopy sun shade.
Wood stick grips (contoured, L/R) with push to talk on both sides.
Exterior Pictures
Click any picture for a larger image.
Interior Pictures
Click any picture for a larger image.
Recent Maintenance Items
New brake linings. 10/14
New PC680 primary battery under seat. 10/14
New ignition harness. 02/14
Replaced pitch damper. 02/14
Propeller repitched by Gary Hertzler to match new engine. Rebalanced to 0.01 IPS! 02/14
Transponder biennial recertification. 12/13
New 3.0L, 91-octane-tolerant engine from Falcon Machine. 11/13
Carburetor overhauled by D&G 07/13.
November 2014 condition inspection.
Rebuilt dual point (electronic/mechanical) alternator installed 10/12.
New throttle and mixture cables with new routing. 02/12
Motor mount stripped, checked and repainted. 01/12
New Condor 5.00-5 6-ply main tires, 07/11
Performance, with Sensenich 63x44 Prop, @1175#, leaned just a little rich of peak
Density Altitude
Engine RPM
MPH Ind.
MPH True
Fuel Flow
MPG

7500

2400

86

96

3.4

27.4

7500

2500

94

105

3.6

28.3

7500

2600

97

108

3.8

27.0

7500

2800

106

118

4.7

24.1

7500

3000

115

128

5.2

23.7
More Information
The current POH is available on-line as a PDF file you can view or download.
This includes a detailed annual inspection check-list.
A variety of W&B sheets that cover most loading conditions are also available as an Excel file you can download.
Complete build & maintenance records, oil analysis, flight test reports. Zenith plans included.
Now priced at just $33,000. Fresh condition inspection 11/14.
Might do a partial trade for a really nice, late-model, small/medium-sized SUV.
N601GE is currently hangared and can be viewed at Falcon Field Airport (FFZ), Mesa, AZ. (K-5)
Owner/builder is a CFI and EAA Flight Advisor, and can check you out for insurance purposes.
Can be delivered anywhere in CONUS for expenses.
For more information contact Andy Elliott (480)695-9568. E -Mail aelliott@alum.mit.edu

Center stage at Oshkosh, July 2011! Now just $33,000!